ยกเลิก checkbox 'Remember My Password' ออก
---
DateTime : 2011-04-17 21:34:19
Post By : huwko
IP Address : 118.175.76.231

Thank you http://samba-beginner.blogspot.com/2010/06/checkbox-remember-my-password.html

ในกรณีที่ผู้ใช้งานเป็นนักเรียน หรือกลุ่ม office ที่การ authenticated ไม่ได้ควบคุมจาก AD ของ Windows2003 หรือไม่ได้ควบคุมด้วย profile เป็นการใช้คอมพิวเตอร์แบบ login ด้วย normal user
หรือ admin user และ ใช้ internet explorer ร่วมกัน ปัญหาก็คือ "เมื่อใช้ Internet Explorer เข้าอินเทอร์เน็ตจะมี popup ให้ใส่ username และใน popup นี้เองมีปุ่ม check Remember My Password ถ้าใครคนใดคนหนึ่งไปเช็คถูกไว้ การเข้าใช้งานของคนถัดไปอาจจะไม่มี popup ขึ้นมาถาม และเข้าอินเทอร์เน็ตไปเลย ทำให้ดูเสมือนว่าระบบ Authenticated ไม่ทำงาน ซึ่งเหตุการณ์เช่นนี้จะเกิดกับการใช้งานในโรงเรียน หรือใน office ที่ไม่ได้ลงทุนทางด้านระบบมากนั้นเพียงแต่ใช้ endian firewall หรือ proxy เป็นตัวจัดการการเข้าใช้เน็ตเท่านั้น



ทางแก้ปัญหาคือยกเลิกข้อความนั้นออกไปเสีย โดยการแก้ไขค่า register ดังนี้
-- Start -> Run -> พิมพ์ regedit
-- HKEY_CURRENT_USER -> Software -> Microsoft -> Windows -> CurrentVersion -> Internet Settings
-- ที่เมนู Edit เลือก New เป็น DWORD พิมพ์ค่า DisablePasswordCaching
กำหนดค่าเป็น 1



หลังจากนั้นเข้า Internet Explorer ใหม่ตัว check Rembmere My Password ควรจะหายไปแล้ว



---
Message !!
หากต้องการตอบกระทู้ Webboard กรุณาเข้าใช้ระบบก่อนนะค่ะ..
---
กระทู้ตอบกลับ
On trying to visit certain secure websites requiring password authentication, a popup dialog box in Internet Explorer may ask for your user name and password (see the screenshot above, from which I've scrubbed out the user name and password!). Now if you tick "Remember my password" box before you hit "OK", it ought to save your details and fill in the username and password for you automatically the next time you go to that web page.
However, I found that Internet Explorer 7 suddenly stopped auto-completing my details, even though I'd ticked that checkbox previously and even though it was remembering it fine before. (Probably things got messed up when I uninstalled the Google Toolbar, which I did because I couldn't turn off the new "access your toolbar anywhere!" button).
There are other solutions to get IE to remember your info and autocomplete them again, but (as I'd prefer not to add external web sites to my "Local intranet" unless I absolutely have to) here's what worked for me to solve the problem on my Windows Vista computer and force IE to save and fill in my user and password details again:
Click on Trusted Sites to select it (I've highlighted it above), then click Sites (highlighted with red outline).


Click in the "Add this website to the zone" box, clear any current entry (unless it's for the site you want to login to, of course), type or paste in the full URL (web address) of the site or page you want to log in to, including https:// if that's in the address, then click Add. Repeat for any other websites you log in to via a pop up box where you want your computer to save and complete your user name and password next time you want to login – I've blanked out the details in this screenshot. (You might also want to tick "Require server verification…"):



Next, click "Custom level" (outlined in blue in the screenshot above), and in the next mini window scroll to the very end (User authentication), and click against "Automatic logon with current user name and password".



Now you can click OK, and OK again.

That should hopefully fix the issue. If not, you'll need to try some other suggestions and troubleshooting tactics which may involve things like editing your computer's registry, remembering that that link I just gave was for Windows XP so the tips there may or may not work on Vista.
Note: this post only applies to password authentication which uses the separate popup – not to any problems with auto-complete when you're filling in a form in the body of a Webpage.
Warning: for security reasons many people say you shouldn't tick that "Remember.. " box, and they're probably right. You certainly shouldn't do that on a public machine. I don't do it on my laptop or notebook computer – just my home desktop PC, and I know I'm taking a chance if I ever get burgled so even that may not be such a good idea. Don't say you haven't been warned of the risk!
Post โดย :
huwko Date: 2011-04-18 14:48:47 ip: 118.175.76.231
For Windows 7
Run>gpedit.msc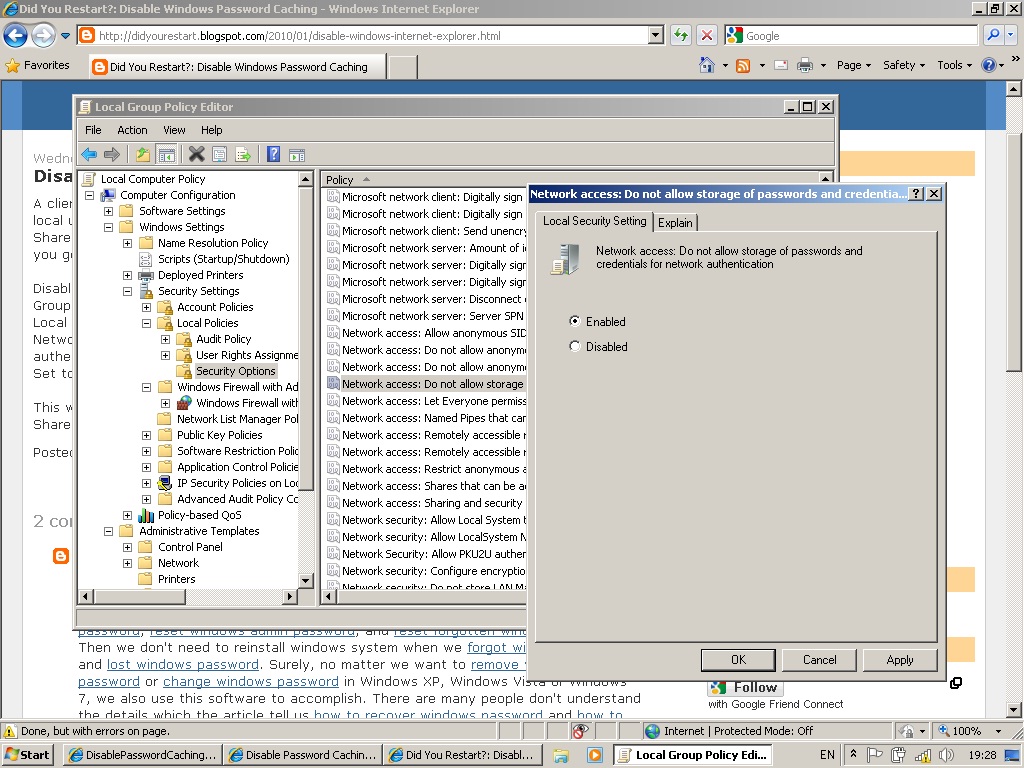 Post โดย :
huwko Date: 2011-04-21 19:55:36 ip: 118.175.76.231
สุดยอดครับท่าน huwko ว่าที่บัณฑิตปริญญาโท ขอนแก่น
Post โดย :
wauy Date: 2011-04-22 20:02:20 ip: 122.154.140.35